"Best of us" bei familiärer Atmosphäre in der Kulturscheune!
(wS/red) Siegen | Am 16. April um 19 Uhr ist es endlich soweit. Der Sonnenhof in Breitenbach (Breitenbacher Str. 381, 57074 Siegen) lädt inmitten der ländlichen Idylle zu einem wild-romantischen Hof-Abend ein.
Der musikalische Auftakt der neu ins Leben gerufenen, dreiteiligen Veranstaltungsreihe "Kulturscheune" verspricht dieses Jahr packende Live-Musik. Scheune und Stall des Bauernhofs werden kurzerhand zu einem authentischen Veranstaltungsort in gemütlicher Atmosphäre umgewandelt. Zu dem lebhaften Treiben von Pferden, Ziegen, Schafen, Hunden, Hasen, Schweinen, Gänsen und Hühnern gesellen sich zwei hochkarätige Musikerinnen aus Köln und Antwerpen, die sich erst im vergangenen Jahr auf der Bühne des KGB Siegen kennengelernt haben.
Mit dem Programm "Best of us" präsentiert Cathérine de la Roche Lieder von ihrer aktuellen CD "Spielplatz", dem sie weitere ausgewählte und neu interpretierte Stücke aus ihren letzten Programmen hinzufügt. Exklusiv und erstmalig vor Publikum gibt es auch Lieder ihres neuen Albums "SO ODER SO" zu hören, das erst am 7. Mai in Limburg uraufgeführt wird. Das Album ist ein Gesamtkunstwerk aus Leidenschaften, Loops, gesprochenen Worten und selbst gemachter Musik und betrachtet beide Seiten des Lebens. Cathérine berührt mit ihrer Ehrlichkeit und Offenheit, die ihre Texte in sich tragen. Vor allem die Intimität und der Wohlfühlfaktor machen ihre Auftritte zu etwas ganz besonderem. So ist die Kulturscheune geradezu prädestiniert für ein Cathérine de la Roche Konzert.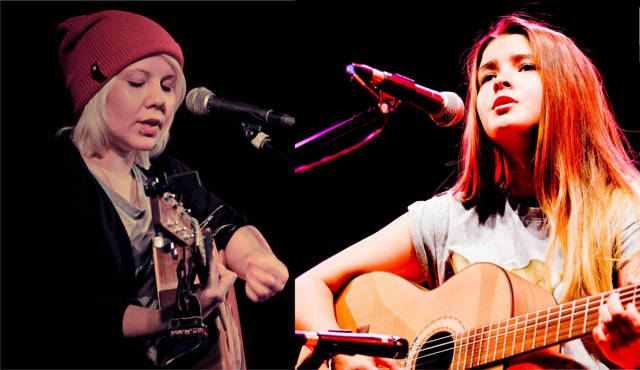 Die Bühne teilt sich Cathérine mit der jungen und faszinierenden Jessica King – Tochter des Bluesmusikers Dale King. Trotz ihrer 14 Jahre, weist sie bereits 3 Jahre Bühnenerfahrung auf und begeistert nicht nur mit ihren gecoverten Songs, die sie zu ihren ganz eigenen Liedern macht. Doch wer denkt, dass Jessica King nur covern kann liegt falsch. Trotz ihres jungen Alters hat sie schon eigene Songs in petto und freut sich, diese auf der Bühne zu performen.
Veranstaltet wird die Kulturscheune von der Familie Büdenbender, den Bewohnern des Sonnenhofes, in Zusammenarbeit mit Martin Horne. Karten lassen sich per Mail unter vvk@martinhorne.de bestellen, können aber auch direkt bei Familie Büdenbender oder der Konzertkasse Siegen gekauft werden.